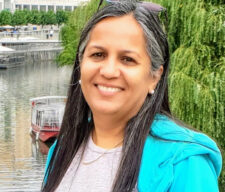 I am an art therapist, artist, author, and mindfulness practitioner. As an art therapist, I enjoy inspiring people to use art as a tool to express their thoughts and feelings. Through my art, I explore and represent the balance I experience living in the west and having roots in the east (India).  I enjoy sharing my knowledge of art therapy through my books, art, and teachings.
I have a daily practice of meditation and yoga and enjoy creating a safe place to meditate, make art and share through workshops and one on one teaching. I completed a certification in MBSR, several week-long and day retreats.  I use a combination of art therapy and mindfulness in my private practice.
I have an art therapy private practice at Circle Art Studio, Fairfax, Virginia, where I work with all age groups.